Water Pump Pliers
Water Pump Pliers (Cobra)
Heat treated chrome vanadium steel
Hardened teeth approx. HRC55-60 (high frequency)
Multiple positions for size adjustment by pressing the button
Longer size of mouth for locking on bigger workpieces
Types and specifications
| | | | | |
| --- | --- | --- | --- | --- |
| Article No. | L (mm) | Jaw (mm) | Weight (g) | Price |
| 739 | 180 | 0~37 | | Quote |
| 1039 | 240 | 0~49 | | Quote |
| 1239 | 300 | 0~68 | | Quote |
Additionals
Water Pump Pliers (slip joint)
Heat treated chrome vanadium steel forged water pump pliers
bi-material handles and polished heads produce a better grip for comfort and a precision appearance
This water pump pliers patent belongs MYTOOLS ENTERPRISE CO., LTD.
Types and specifications
| | | | | |
| --- | --- | --- | --- | --- |
| Article No. | L (mm) | Jaw (mm) | Weight (g) | Price |
| 10DP | 250 | 0~42 | 430 | Quote |
Additionals
Comparison in video
New design slip joint water pump pliers
REMARK: We improve the operation of the water pump pliers. Users do not push the pin or take out the water pump pliers several time. Users can only pull up or down to adjust the positions. It's much efficient.
Cobra pliers
REMARK: Users need to adjust different positions after push the pin regarding to the workpiece sizes.
Box joint pliers
REMARK: Users need to measure the workpiece sizes by adjusting the water pump positions and take in and out several times accordingly.
Water Pump Pliers (groove joint)
Heat treated chrome vanadium steel forged water pump pliers
bi-material handles and polished heads produce a better grip for comfort and a precision appearance
Types and specifications
| | | | | |
| --- | --- | --- | --- | --- |
| Article No. | L (mm) | Jaw (mm) | Weight (g) | Price |
| 1029 | 250 | 0~42 | 360 | Quote |
Additionals
Water Pump Pliers (slip joint)
Heat treated chrome vanadium steel forged water pump pliers
bi-material handles and polished heads produce a better grip for comfort and a precision appearance
Types and specifications
| | | | | |
| --- | --- | --- | --- | --- |
| Article No. | L (mm) | Jaw (mm) | Weight (g) | Price |
| 9519 | 240 | 0~42 | 320 | Quote |
Additionals
Water Pump Pliers (slip joint)
Heat treated chrome vanadium steel forged water pump pliers
bi-material handles and polished heads produce a better grip for comfort and a precision appearance
Types and specifications
| | | | | |
| --- | --- | --- | --- | --- |
| Article No. | L (mm) | Jaw (mm) | Weight (g) | Price |
| 9509 | 240 | 0~50 | 340 | Quote |
Additionals
Water Pump Pliers (box joint)
Heat treated chrome vanadium steel forged water pump pliers
Seven position box joint adjustable head
Approved to GS/TUV and DIN Standards
DIN ISO 8976
bi-material handles and polished heads produce a better grip for comfort and a precision appearance
Types and specifications
| | | | | |
| --- | --- | --- | --- | --- |
| Article No. | L (mm) | Jaw (mm) | Weight (g) | Price |
| 7B | 180 | 0-30 | 220 | Quote |
| 10B | 240 | 0-36 | 380 | Quote |
| 12B | 300 | 0-46 | 600 | Quote |
Additionals
Water Pump Pliers (box joint)
Heat treated chrome vanadium steel forged water pump pliers
Seven position box joint adjustable head
bi-material handles and polished heads produce a better grip for comfort and a precision appearance
Types and specifications
| | | | | |
| --- | --- | --- | --- | --- |
| Article No. | L (mm) | Jaw (mm) | Weight (g) | Price |
| 10B | 240 | 0-36 | 315 | Quote |
Additionals
Water Pump Pliers (groove joint)
Heat treated chrome vanadium steel forged water pump pliers
Seven position groove joint adjustable head
Approved to GS/TUV and DIN Standards
DIN ISO 8976
bi-material handles and polished heads produce a better grip for comfort and a precision appearance
Types and specifications
| | | | | |
| --- | --- | --- | --- | --- |
| Article No. | L (mm) | Jaw (mm) | Weight (g) | Price |
| 10A | 240 | 0-50 | 490 | Quote |
Additionals
Water Pump Pliers
Groove Joint
Heat treated chrome vanadium steel forged water pump pliers
Seven position groove joint adjustable head
bi-material handles and polished heads produce a better grip for comfort and a precision appearance
Types and specifications
| | | | | |
| --- | --- | --- | --- | --- |
| Article No. | L (mm) | Jaw (mm) | Weight (g) | Price |
| 8C | 200 | 0-34 | 210 | Quote |
| 10C | 240 | 0-42 | 400 | Quote |
| 12C | 300 | 0-50 | 670 | Quote |
Additionals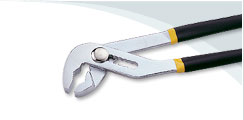 Water Pump Pliers-B
with screwdriver
Heat treated chrome vanadium steel forged water pump pliers
Seven position slip joint adjustable head
bi-material handles and polished heads produce a better grip for comfort and a precision appearance
Types and specifications
| | | | | |
| --- | --- | --- | --- | --- |
| Article No. | L (mm) | Jaw (mm) | Weight (g) | Price |
| 10D | 240 | 0-35 | 330 | Quote |
Additionals
Water Pump Pliers (box joint)
Heat treated chrome vanadium steel forged water pump pliers
Seven position box joint adjustable head
bi-material handles and polished heads produce a better grip for comfort and a precision appearance
Types and specifications
| | | | | |
| --- | --- | --- | --- | --- |
| Article No. | L (mm) | Jaw (mm) | Weight (g) | Price |
| 7B | 180 | 0-26 | 185 | Quote |
| 10B | 240 | 0-36 | 340 | Quote |
| 12B | 300 | 0-46 | 550 | Quote |
| 16B | 400 | 0-90 | 1200 | Quote |
Additionals
Water Pump Pliers (Cobra)
Heat treated carbon steel forged water pump pliers
High quality drop forged steel
Seven position box joint adjustable head
bi-material handles and polished heads produce a better grip for comfort and a precision appearance
Types and specifications
| | | | | |
| --- | --- | --- | --- | --- |
| Article No. | L (mm) | Jaw (mm) | Weight (g) | Price |
| 7E | 180 | 0-26 | 185 | Quote |
| 10E | 240 | 0-36 | 320 | Quote |
| 12E | 300 | 0-46 | 540 | Quote |
Additionals
VDE TOOLS (INSULATED)
VDE Socket Set
VDE Spanner & Wrench
VDE Scissors
VDE Cable Knives
Pliers
VDE Pliers
Combination Pliers
Long, Bent Nose Pliers
Diagonal Cutting Pliers
Water Pump Pliers
ESD Pliers
Cable Cutters
Other Pliers
Plier Sets
Screwdrivers
VDE Screwdrivers
ESD Screwdrivers
Others
Other Hand Tools